Georg riedel jazz ballet - Trombone Page of the World - Index L
© Tangorin by Gregory Bober • About • [email protected]


Ole Lindgreen - Swing - Ole Lindgreen [bio at this site]
Denmark - Kopenhagen
Born, May 16th, 1938 in Copenhagen, Denmark Ole "Fessor" Lindgreen took up an interest in playing music at an early age. In his teens he became a member of the local schoolband and he first got acquianted with the tenor horn and a little later changed to sousaphone (tuba).


Dave Linton - All Styles
USA - Yardley, PA
Dave holds a Bachelors of Education from Trenton State College (now The College of New Jersey) where his major instrument was Euphonium. He currently performs with the Eastern Wind Symphony and does other freelance playing in the area. Dave is part of the Brass Staff for the Bushwackers.


Garrett List - Jazz Improv
USA - California
Garrett List (born 1943 in Phoenix, Arizona) is an American trombonist, vocalist and composer. In 1950, he moved with his family to Southern California. At the age of 18, he already was busy teaching, playing and composing music (from classical and jazz to pop).


Melba Liston - Jazz Improv 1926 - 1999
USA
Melba Doretta Liston was born in Kansas City, Missouri on January 13, 1926. Her family moved to Los Angeles in 1937 and she attended and graduated from McKinley Junior High School (currently George Washington Carver Middle School). She studied trombone and harmony and graduated from Los Angeles Polytechnic.


Jeannie Little - Classical
USA - Los Angeles, CA
Jeannie Little received her degrees from Northwestern University and The Florida State University. Her principal teachers include Jay Friedman, Frank Crisafulli, Charles Vernon, Arnold Jacobs, John Marcellus and William Cramer. Jeannie has served as principal trombonist of the Charlottesville Symphony.


Bryan Livett - Swing
Canada - Toronto, Ontario
Schmelzer 1
Bryan has "guested" with Toronto area bands such as Jim McHarg's Jazzmen, Dr. McJazz, Hot Five Jazzmakers, Climax ., Ragweed ., Silverleaf ., Excelsior ., Happy Pals, Downtown ., Alex Pangman's Alleycats, Janice Hagan, Tyler Yarema and Chris Whiteley and in New Orleans with Tommy Yetta, and many more.


Sebastien 'Spicebones' Llado - Jazz Improv - Sabastien Llado [bio at this site]
France - Champs
CG Conn 6H / Bach 6 1/2 AL
He has been studying trombone with Guy Figlionlos in Noisiel Conservatory (France), and then went to Berklee College (Boston, USA), where he learned from Phil Wilson, Jeff Galindo, Hal Crook and even late great . Back in Europe since 1998, he studies at Conservatoire National Superieur de Musique.


Todd Londagin - Jazz Improv
USA - New York City, NY
Yamaha YSL-645 / Bach 6 1/2 AL
The trombone playing, tap dancing co-founder of New York City's highly acclaimed Flying Neutrinos is making his mark internationally as the leader of the Todd Londagin Band.


Fred Lonzo - Swing
USA - New Orleans, LA
Fred Lonzo has worked with virtually every jazz group in New Orleans and has acquired a lot of experience in many different music styles - brass bands, dixieland and repertory groups, rhythm and blues bands, and modern jazz groups. Locally he has been active in clubs such as, Crazy Shirleys, Heritage Hall, and many more.


Charlie Loper - Jazz Improv
USA - Los Angeles, CA
Charlie Loper was born in Atlanta, Texas and took up the trombone at the age of fourteen. Basically self-taught until college, he won the first trombone chair in the Texas All-State Band his senior year in high school. While at Memphis State University he studied extensively with Ralph Hale.


Richard Lopez - All Styles - Richard Lopez [bio at this site]
USA - Olympia, WA
King 3B Silversonic / Marcinkiewicz 12C
Richard got his start in the Denver Public Schools music program, playing trombone in such groups as the prestigious . Honor Jazz Combo and the Colorado All-State Jazz Ensemble. As a teenager he played with jazz contemporaries Greg Gispert, Brad Leali and Javon Jackson and studied jazz.


Rick Lopez - All Styles
USA - Alamo, TX
Olds Super / Bach 6 1/2 AL
Rick Lopez is a free-lance trombonist, music writer, educator, former member of the Air Force Band Of The West (77-81) and most of all, a musician in service to Jesus Christ.


Stephan Lorenz - Classical - Stephan Lorenz [bio at this site]
Germany - Schwerin
CG Conn 88H / Laetzsch Spezial
Germany - () studied with Michel Becquet and Hans Voithofer at the Musikhochschule Koeln, after playing with "Neue Philharmonie Westfalen" and "Philharmonisches Orchester Lubeck", from 2000-2005 first/second Trombonist in "Osnabruecker Symphonieorchester" and 2005/2006 Trombonist in "Staatsorchester".


Peter Lothian - All Styles
Australia - Sydney, NSW
Bach 36 / Giardinelli 4D
Freelance Tenor Trombonist, Australia. Also works in cultural management and is Administrator for the Sydney Improvised Music Association (SIMA), Aus tralia's leading contemporary jazz organisation.


Chris Lowe - Jazz Improv
UK - London
Born in April 1977, Chris Lowe was brought up on jazz music of the 1920's and 30's as well as comedy bands such as The Bonzo dog Band and Spike Jones. After brief flirtations with cornet and drums (the latter still an occasional occurence) Chris took up the trombone at 16.


Al Lube - All Styles 1910 - 2001
USA
Al Lube played it all. From classical music to Dixieland jazz, the journeyman musician never limited himself to one genre of music. As a University of Houston trombone instructor, he instilled the same wide-open musical style in his students. Lube passed away in 2001 at the age of 91.


Don Lucas - Classical
USA - Boston, MA
Edwards
Don Lucas, native of Falls Church, Virginia, was educated at North Texas State University, Berklee College of Music, Texas Tech University (BM, MM), The University of Houston (Doctoral) and as a Fulbright Scholar to London's Guildhall School of Music (Advanced Solo Studies Diploma).


Dante Luciani - Swing
USA - Miami, FL
Assistant Professor (Jazz Brass), has . and . degrees from the University of Miami. Formerly the lead trombonist and soloist with the Woody Herman and Maynard Ferguson Orchestras, Luciani has performed with various artists, including Frank Sinatra, Sammy Davis, Jr., Ben Vereen, Burt Bacharach, and many more.


Ingo Luis - All Styles
Germany - Cologne
Ingo Luis graduated from high school in Mülheim in 1981 and went on to study the trombone at the Folkwang Conservatory in Essen until 1984. He then continued his studies at the Cologne Conservatory with various tutors including Jiggs Whigham, Axel Jungbluth and Michael Junghans.


Royce Lumpkin - Classical
USA - Charlotte, NC
CG Conn 88H Lindberg / Giardinelli Symph T
Royce Lumpkin, a native of Kilgore, Texas, has been the chair of the music department at the University of North Carolina at Charlotte since 1998. He holds degrees in music education from the University of North Texas and a DMA degree in trombone performance from the University of Oklahoma.


Steven Lundahl - Classical - Steven Lundahl [bio at this site]
USA - Canterbury, NH
CG Conn 88H / Stork Custom
By day, I am a software developer and consultant, specializing in Microsoft technologies. In particular, I design and build database systems for companies large and small, using Microsoft SQL Server and .NET technologies including web, smart-client, SOA and client-server architectures.


Kirk Lundbeck - Classical
USA - Sycamore, IL
Bach 42TG Lt 50 / Giddings & Webster Euros
Kirk Lundbeck received his Bachelor of Music, ., in 1981 with an emphasis on trombone performance and continued his studies in trombone and instrumental conducting through 1983. He has studied with some of the finest trombone instructors in the world including Mr. James Mattern, and Anthony Garcia.


Torbjorn Lundberg - Classical - Torbjorn Lundberg [bio at this site]
Sweden - Gothenburg
Bach 50T / Schilke 60
Torbjorn Lundberg was born in Sandviken. He took his first trombone lessons in the community music school in Sandviken. Being 11-12 years, he dreamt about playing the bass trombone. A dream that became true. In high school Torbjorn moved to Stockholm, and Sodra Latin's music education.


Don Lusher - Swing 1923 - 2006 - Don Lusher [bio & movie at this site] - Don Lusher
UK
Yamaha
Don Lusher, born in Peterborough, started on trombone at six years old, becoming the third generation to play in the Peterborough Salvation Army Band, alongside his father and grandfather. During the war he served as a gunner signaller in the Royal Artillery.


Mark Lusk - All Styles
USA - University Park, PA
Selmer
Mark Lancaster Lusk, Professor of Trombone, became a member of the Penn State faculty in 1986. Prior to his appointment, he enjoyed a varied career with such diverse groups as the Woody Herman Thundering Herd, the Chicago Symphony Orchestra, the Eastman Wind Ensemble, and the Chicago Contemporary Chamber Ensemble.


David Lussier - All Styles
USA - Milwaukee, MI
David Lussier is a professional free lance trombonist who has lived in the Milwaukee area. A 1979 graduate of Marquette university High School, he studied trombone with David Ruck at the University of Wisconsin-Milwaukee and Donald Haack of the Milwaukee Symphony Orchestra.


Jim Lutz - All Styles - Jim Lutz [bio at this site]
USA - Los Angeles, CA
Edwards Jazz tenor / Yamaha 48
Jim is a trombonist with the newetproduction of Cirque du Soleil, which debuts in April 2007. In 2005, Jim completed his master's degree in jazz studies at the University of Southern California in 2005, after serving for 2 years as a teaching assistant in the USC jazz department.


Max Lyon - All Styles - Max Lyon [bio at this site]
USA - Austin, TX
King 3B Silversonic/ F - Denis Wick 9BS
Born in Jefferson, IA, USA Bachelor of Music Education, Drake University, Des Moines, IA, 1972 Special Bandsman US Military Academy Band, West Point, NY, 1972-75 Free-lance musician NYC 1975-77 Public school band instructor in Iowa 1977-83 Master of Arts-Brass Performance, University of Iowa, Iowa City, IA.


Printed from Oxford Music Online. Under the terms of the licence agreement, an individual user may print out a single article for personal use (for details see Privacy Policy).
This Wikipedia is written in English . Started in 2001  ( 2001 ) , it currently contains 5,540,586 articles. Many other Wikipedias are available; some of the largest are listed below.
By the mid-1950s, fueled by optimism and a willingness to experiment with different materials and techniques, the Ackermans began expanding into mosaics, tapestries, woodcarvings and cast hardware. Evelyn, demure and endlessly creative, took the lead. Jerry, the gregarious one, left ceramics behind and focused on production, marketing and sales while continuing their creative partnership. "We were ahead of the curve in terms of decorative accessories," he says. "Before our designs, everything that went into a house was either a painting or a print."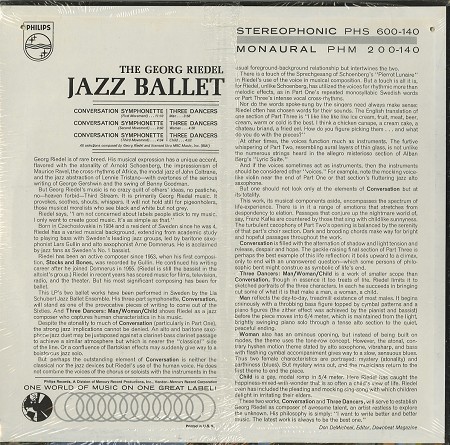 qv.odr24.info